Manchester United's club-record deal for Juan Mata is likely to be completed on Friday.
Sky sources understand a central Manchester hospital is waiting to carry out a medical on Mata, who has told Chelsea team-mates his departure is imminent.
Chelsea announced on Thursday they have secured a replacement in the shape ofBasel's attacking midfielder Mohamed Salah, and the Mata transfer is now expected to proceed without a hitch.
United will reportedly hand over £37m for the Spain international, far exceeding the £30.75m they are thought to have spent on Dimitar Berbatov in 2008.
The fee also represents a hefty profit for Chelsea on a player they signed for £23.5m from Valencia in 2011.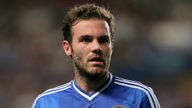 Mata was named Chelsea's player of the year in each of the past two seasons but has been reduced to a bit-part role since Jose Mourinho returned to Stamford Bridge.
A move to Old Trafford represents the chance of more regular football ahead of Spain's World Cup defence in Brazil this summer.
All parties are keen for the transfer to go through, according to Sky Sports' Spanish football expert Guillem Balague.
"The idea is that Mata, who Chelsea are happy to let go, goes to Old Trafford in this transfer window," Balague revealed on Revista de La Liga this week.
"I am under the impression that a deal will be reached because it benefits everybody.
"United need quality, Mata needs to get out of the situation he is in and it would reinforce United for their meetings with (Chelsea's title rivals) Manchester City and Arsenal, which is clever from Jose Mourinho."
Earlier, Arsenal manager Arsene Wenger claimed Mata's possible move to United lacks 'fairness'.
Wenger believes it is unfair that Chelsea are selling Mata to United, particularly as the two clubs have played each other twice in the Premier League this season.
"I am surprised. Juan Mata is a great player and they sell a great player to a direct opponent," Wenger said.
"Chelsea have already played twice against Man United, they could have sold him last week.
"I think if you want to respect the fairness for everybody, this should not happen.
"I can understand completely what Chelsea are doing, and they do not make the rules, but maybe the rules should be a bit more adapted for fairness."
Arsenal, who are two points ahead of third-placed Chelsea, could face Mata when United travel to the Emirates Stadium on February 12