Already in the 19th minute , the first attack of the match , the visitors put themselves a goal by Steve Sidwell , who is now a captain . Lewis Holtbi out beautifully midfielder , taking advantage of the huge hole that was gaping in the defense of United. Sidwell , undisturbed detected from the air, sending the ball into the corner.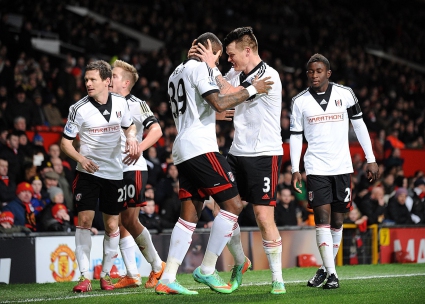 Just three minutes later, Van Persie missed a great opportunity to equalize. Rafael centered right to the far post where the Dutchman was dropped, but he failed to put the ball in the empty corner.
In the 38th minute " Cottagers " made second deadly counterattack in which Kieran Richardson found himself face to face with de Hea but shot over the crossbar. Seconds later, the door to the other , Carrick hit the ball hard , but Stekelenburg cellars, and in the ensuing scuffle add Van Persie was cleared for a corner . Vidic volley ball corner but Fulham guard catches the ball .
In the 55th minute Stekelenburg tipped sharply centering Evra , then with a great reflex managed to avert the subsequent impact of Rooney . Three minutes later, the hosts could not get a penalty after Dan Byrne handball in the box in combat with Van Persie . Kevin Friend , however, passed the situation.
In the 78th minute the hosts finally reached the goal . Evra centered again on the left, Mata shot on goal but Riise blocked. In shuffle ball again came to the Spaniard who try new shots , and Van Persie volley of shot. Just a minute and a half after Michael Carrick had turned full after a shot from just outside the penalty area and ricochet leg of Scott Parke